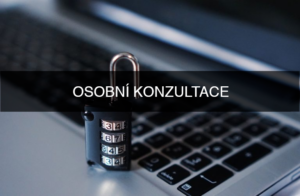 Do you need to discuss security in private? Are you planning to purchase a new computer and would like to have it secure from the beginning? Have you been a victim of a hacker attack and want to mitigate the consequences or restore your data or accounts? Or do you want to secure your digital life (computer, mobile, online services, and more) but it doesn't fit our bulk workshop format?
Please write me and we will discuss the date of the individual consultation.
What can I help you with?
Generally, safeguarding your digital life.
Individually set up and secure your computers, mobile phones, tablets and other devices to suit your needs.
Installation of new devices. Your new computer or phone can therefore be secured from the first day of use.
Reinstallation your current devices.
I will advise you how to avoid theft of your data or infect your online accounts or how to secure your device.
How to protect the data of your customers and business partners.
and more.
What you can expect?
The first step is an introductory meeting (or a telephone or electronic communication) to discuss your expectations and requirements, the current status and the next steps.
Afterwards it continues with consultation or help with setting up your devices and online accounts. Everything is done strictly individually and discreetly!
What not to expect?
I am not a software or hardware reseller, I don't have any sales or support agreement with any manufacturer. If I recommend and help install a program or device, it does not increase my profits.
I will not force you to use a software or devices that do not suit you. For example, if you're using Windows, I'll show you how to use it as safely as possible and I will not persuade you to install Linux.
I do not want to know your passwords or access to services (email, stock exchanges, social networks, etc.). If you need to log in anywhere during the consultation, you will enter the passwords yourself.
I will not ask you to provide information about your business, trading or reasons why you need to use encrypted communication for example.
I do not pretend to know everything. If I do not know the answer to any of your questions, I will not invent it, just to "answer" something.
Do not expect a lot of incomprehensible technical terms. I try to make it clear and simple, the best possible way so that a person who does not have IT experience can understand it.
Contact
If you are interested in personal consultation, please contact me using the form below, by email info@zaskolit.cz or by phone +420 776 636 110 (Signal can also be used).